Another busy day, and a beautiful day it was, too.  The morning started in the recently remodeled Club Room, with Steve R. leading an Oral Exam prep class for Bob A, Jeff F, John H, Warren P, Mark B, and Liam G.  Bob, Jeff, John, and Warren will be taking their Oral Exams and flying their Check Rides in the second half of September.  If they pass, they'll either earn their Private Pilot's License (Glider), or they'll be adding a Glider Add-on to their existing license.
–
–
The flying started with Liam G., who flew two pattern tows with Steve.  Steve decided to sign Liam off to fly his first solo.  For his initial solo, Liam flew a quick pattern tow.  He followed that up with a tow to 3,000′ for his second solo flight.  Congratulations, Liam! 
–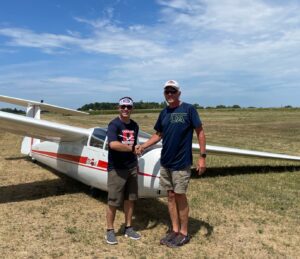 Liam being congratulated by Steve
–
NOTE:  Even though Liam is an Air Force RC-135 pilot, he was super excited about completing his solo.  He was going to head home after the solo, but he ended up staying for a while to talk about his solo.  We are very happy for you, Liam!  Good job!
–
Next up was Jim C. for his second FAST Kit flight.  We launched Jeff F. in his 1-26B, and then Warren P. and Steve went up for more Check Ride practice.  Next up was our newest student member, Graydon C., who had finished his 5 CAP Cadet Orientation flights, and wanted to continue soaring.  Welcome, Graydon!  Mark B. got in a couple of flights, and then Jeff took his 1-26B up again.  David L. flew a solo flight.  Next up was Vere for two back-to-back flights with Steve.  Jacob M. then did two flights with Steve.  Bob A., John H., and Jeff each did a Check Ride practice flight with Steve.  Steve and I did the hangar flight, with me getting more time flying from the rear seat.  The last four to five flights were flown in very calm air – it was a gorgeous end to a good day of flying!
–
There is an item worth mentioning from the aspect of safety.  Always be scanning for air traffic!  We are trained to do that, and it is critically important.  Jeff was a mile and a half northeast of BTA when a business jet passed beneath him on its way to Eppley Airfield.  Jeff reports that he didn't see it until it was moving away from him.  In reviewing his flight recorder and the Flightradar24 website, Jeff found that he was at 2,900′ in altitude, and the jet passed less than 500′ beneath him, traveling at 200 knots.  The jet was traveling low and fast, and it flew right thru BTA airspace, apparently without making any radio calls.  So, always be scanning the sky!  
–
Frank did all the towing today.
–