Introductory Flights and Gift Certificates
Introductory flights are $100 for a tow to 3000 feet. This typically provides a 20-30 minute ride.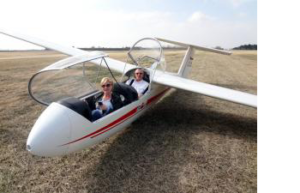 Introductory flights are provided by one of our commercially certified pilots or flight instructors.
An Introductory lessons package is available through the Soaring Society of America's "Fly a Sailplane Today (FAST) program for $140.
With your purchase you will receive: 
An introductory lesson consisting of a minimum of 30 minutes of ground instruction and approximately 30 minutes of flight time with a flight instructor.

A copy of "Everybody's 1st Gliding Book".

A glider pilot logbook.

An introductory 3 month membership in the Soaring Society of America.
Gift Certificates are available for Introductory Flights and FAST packages. To purchase a Gift Certificate, e-mail Tom Schaap.
Please include the following information: 
Your name

Your phone number

Name of recipient of gift

Address to which certificate should be mailed

Amount of the gift: (Introductory flights are $100. FAST packages are $139.)