Hi All,
.
We flew twenty-four flights today.  The first ten flights were CAP Cadet Orientation flights.  Then, Matt R. and Jim D. flew a total of five flights with Steve, doing final practice flights for their Check Rides tomorrow. John H. flew a twenty-seven minute solo between their flights.  Ryan K. flew a total of three flights, and Will M. flew one flight. Malika K. and Lance H. each flew once with Steve.  Lance and Malika are our newest members – welcome to the club!  Bud S. flew a thirty-minute solo, which was the longest flight today.
.
Today's high was 88 degrees, and the forecast for the next week to ten days is for hot and humid weather.  Late July to mid-August is usually hot and humid; these are the dog days of summer.  It won't just be the Omaha Soaring Club that is soaring – it'll be the daily high temperatures, too.  This morning's soaring report, plus Dr. Jack's and SkySight, too, all indicated there'd be lift to almost 9k feet today.  Nope – the thermals didn't form.  It may be because the ground was wet from early morning thundershowers.  It may have been because of the Canadian wildfire smoke in the upper atmosphere.  Regardless of the why, there was little lift to be found.
.
Club members assembled the Grob 102 Astir CS that Bud purchased and that OSCI is considering purchasing.  That's not a glider we'd want to assemble and disassemble very often.  The wings are long and they're heavy!
.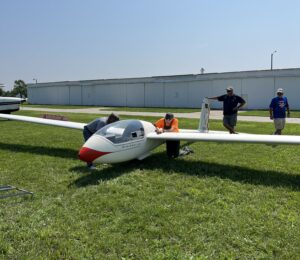 .
Thanks everyone!
.
Tom