It was an active Saturday, with twelve flights despite the low ceilings that lingered for a couple of hours.  We started with Hanna M. for her second FAST flight with Steve.  Then, John H. and Steve R. flew a couple of pattern tows, which were followed by Jaime A. taking a flight with Bob A.  John and Steve flew another pattern tow before two FAST Kit purchasers (Bryan and Danial) each took their first flight with Steve.  Dave L. flew a solo in the L-23, and we also launched Jeff F. in his 1-26.  Steve was in the instructor seat again with Jacob M., who has just formally joined OSCI.  Welcome, Jacob!  We launched Jeff for another flight in his 1-26, and Steve and John did yet another pattern tow to complete the day.  Frank did all the towing today.
.
Of note is that Jeff F. has completed the restoration of his 1966 John Deere Lawn and Garden tractor, which he is using to tow his 1964 1-26 out to the flight line and back.  The vintage tractor and vintage glider look like new:
.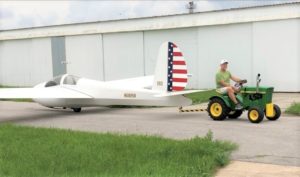 .
Jeff, the vintage owner…does not look like new!      
.