Hi All,
A beautiful October day to fly! The skies were cloud free, the visibility was fantastic, the winds were well within our limits, and the temperature was in the upper 70's. To top it off, we flew thirteen sorties while most people were stuck at work. What a day! First up today was Will M. with Steve R. They were followed by Jeff giving another former co-worker a ride. Warren P. was here from Lincoln (Warren and his wife Helena are the proud parents of a baby girl named Eleanor) then did a nice solo flight and found some weak lift. Dave launched in the L23 and then we got Jeff launched in his 1-26. Beth C. flew two lessons with Steve, and then we launched Bud S. in his new Discus glider. Dave L. flew another solo flight, and then Steve and I flew three sorties for my BFR. Ryan K. and Steve flew the hangar flight. Frank did the towing for us today.
In other news, new club member Sean S. invited interested club members to his home this past week to watch an SSA seminar on training using the Condor Soaring simulator, and to check out his new Condor Soaring simulator set-up. He has a top-of-the-line equipment, including three curved monitors, a comfortable seat, and rudder pedals. It's really nice. Liam S., Beth C, and Abi B. each tried flying the simulator with varying degrees of success. We don't wish to plug any particular products, but Condor is a good soaring simulator with a lot of options. A nice time was had by all.
And, in even more other news, Bud S. flew his new Discus glider at KBTA today. He had a nice smooth take-off, flight, and landing. Plus, we were able to place it into his hangar at the end of the day without using a dolly (we did have to remove the winglets, but they're designed for easy installation and removal). Nice ship!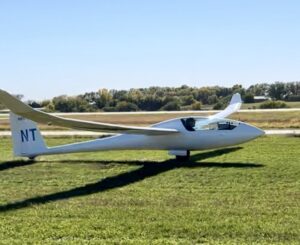 Thanks everyone.
Tom