Hi, all:
The first two flights of the 2021 Soaring Season were Lexy H. for two lessons, with Steve R. instructing.  Lexy (pictured below) is the youngest member of the Omaha Soaring Club.  Lexy is a student member, and this is her third season with the Club.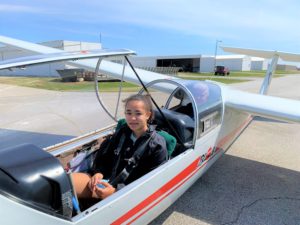 We also got a good start on flight reviews.  Jake K. and Dave L. completed their Safety Flights, followed by Bob C. and then Steve.  Jay B. completed his Safety Flight with Bob C., and then Jeff F. flew his Safety Flight with Steve, followed by Tom S. with Steve.  Jay and Bob assembled their Russia glider (which was recently returned from maintenance work in Moriarity, NM), and between two of the Safety Flights, Bob took the Russia up.  Bob found some lift and was up for a 43 minute flight.  Dave then did two more flights with Steve to complete his BFR.
The weather wasn't bad for March.  It was approximately 63 sunny degrees, with a westerly crosswind gusting to about 14 knots.  The crosswind gusts made for a little more challenging take-offs and landings.  It also kept the Club's L-33 on the ground, and Jeff left his 1-26 in its hangar.  There were a total of 12 flights completed, all towed by Frank M.