We flew eleven flights today.  Liam G. was up first with Steve R.  David L. then flew a solo flight, followed by my own solo flight.  Will M. and Vere M. each did one flight with Steve, and then John flew three pattern tows in a row with Steve.  And then, Liam, Vere, and John each flew another flight with Steve.  Frank did all the towing today.
Other than the fact that it was another very warm day, there isn't much to comment on.  At our last General Club Meeting, Bob D, the club Maintenance Officer, mentioned that some of our ground handling equipment looks pretty run down.  The two most run-down units are our John Deere lawn tractor and our Suzuki Quad Runner.  Both units were given a good washing on Sunday, removing a lot of accumulated hangar dust.  They both look better than they did, especially their wheel rims.  They could still use new seat cushions, as the originals have a lot of duct tape holding them together.  We'll take care of the seats next!  Another thing to mention is that we have a new club sign hanging on the outside of the club office/lounge: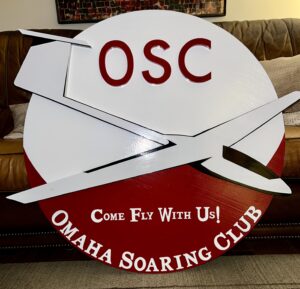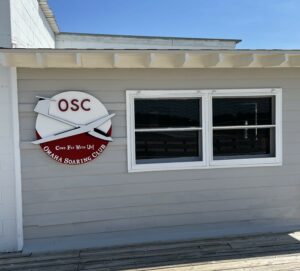 It dresses the wall up nicely!
That's all for now – have a great week!